Circulation and Impact
Atlantis is published twice a year, in June and December, and keeps to its publication date punctually.
Atlantis is indexed in the following Thomson Reuters services:
Arts and Humanities Citation Index®
Current Contents®/Arts & Humanities
Emerging Source Citation Index
Social Sciences Citation Index®
Journal Citation Reports/Social Sciences Edition
Current Contents®/Social and Behavioral Sciences
Atlantis is also indexed or abstracted in the following databases and directories:
ÍnDICEs-CSIC
RESH, Revistas Españolas de Ciencias Sociales y Humanidades
De Gruyter Saur
International Bibliography of Book Reviews of Scholarly Literature in the Humanities and Social Sciences (IBR Online)
International Bibliography of Periodical Literature in the Humanities and the Social Sciences (IBZ Online)
EBSCOhost
Academic Search Complete
Fuente Academica Premier, Humanities
Humanities Abstracts
Humanities International Complete (HIC)
Humanities International Index
Linguistics Abstracts Online
MLA Directory of Periodicals
MLA International Bibliography, published by the Modern Language Association of America
Elsevier BV
SCIMAGO Journal and Country Rank
SCOPUS
Gale-Cengage
Academic ASAP
Expanded Academic Index ASAP
General Onefile
Informe académico
Infotrac Onefile
Literature Resource Center
ProQuest
Annual Bibliography of English Language and Literature (ABELL)
CSA Linguistics and Language Behavior Abstracts (LLBA)
Literature Online (LION)
Periodical Index Online (PIO)
Periodicals Contents Index (PCI)
Sociological Abstracts
Other abstracting and indexing services:
A Bibliography of Literary Theory, Criticism and Philology
American Studies Journal Directory
Bibliography of European Journals for English Studies (BEJES), European Society for the Study of English (ESSE)
CARHUS Plus+
CIRC Clasificación Integrada de las Revistas Científicas
CWTS Journal Indicators
DIALNETPlus
DICE Difusión y Calidad Editorial de las Revistas Españolas de Humanidades y Ciencias Sociales y Jurídicas
DOAJ Directory of Open Access Journals
DUOTROPE
Eigenfactor
ERIHPlus, European Reference Index for the Humanities
Google Scholar Metrics
Índice H de las Revistas Científicas Españolas según Google Scholar Metrics
JSTOR Integrated Digital Platform
Journal Scholar Metrics
LATINDEX
MIAR Matriz de Información para el Análisis de Revistas
ROAD Directory of Open Access Scholarly Resources
REDIB Red Iberoamericana de Innovación y Conocimiento Científico
YWES The Year's Work in English Studies (Oxford Journals)
Ulrichsweb (Online)
Atlantis
holds the Quality Seal for Excellence in Academic Journals awarded by the Spanish Foundation for Science and Technology (2014-2017, extended up to 2018; renewed for 2019-2021; renewed for 2022; renewed for 2022-2023) (Sello de Calidad de Revistas Científicas Españolas, FECYT).
Atlantis
has also been awarded a quality seal in "Good editorial practices for gender equality".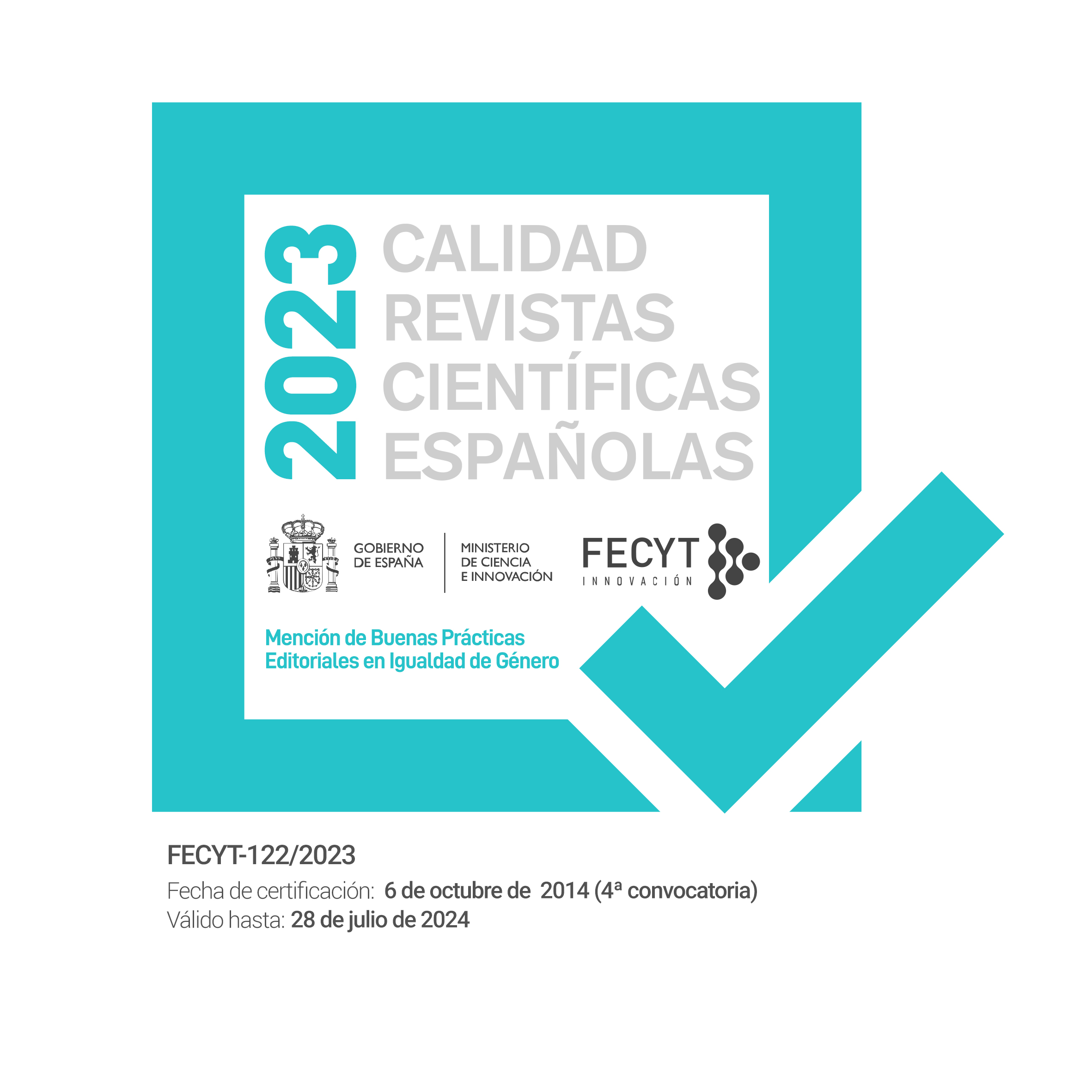 Bibliometric indicators
Database

Impact Factor/
indicators (2021)

Rank/category

JCR

JIF: 0.405

JCI: 0.80

Ranking by JIF:

Q4 (173/194) (Linguistics). Percentile: 11.08

Ranking by JCI:

Q2 (119/370) (Language & Linguistics). Percentile: 67.9
Q2 (131/274) (Linguistics). Percentile: 52.37
Q2 (75/196) (Literature). Percentile: 61.99

SCOPUS

SJR: 0.12
SNIP: 0.871

Literature & Literary Theory: (161/934) 82nd percentile

Language & Linguistics: (476/968) 50th percentile

Linguistics & Language: (519/1032) 49th percentile

Cultural Studies: (516/1127) 54th percentile

SCIMAGO

SJR: 0.12
H index: 12

Q2 (Literature & Literary Theory)
Q3 (Cultural Studies)
Q3 (Linguistics & Language)

FECYT

not applicable

Quality Seal 2014-2017, extended up to 2018; renewed for 2019-2021; renewed for 2022

RESH

CNEAI criteria: 16/19
ANECA criteria: 20/22
Databases: 10
Experts' opinion: 69.13
2005-2009 IF: 0.114

not applicable

CARHUS Plus+

not applicable

Category B (Philology, Linguistics and Sociolinguistics)

CIRC

not applicable

Category A (Arts & Humanities)
Category B (Social Sciences)

LATINDEX

Criteria: 31/38

not applicable

MIAR

ICDS: 11.0

not applicable

CWTS

IPP: 0.30

not applicable

Google Scholar Metrics

2022 version of Scholar Metrics (period 2017-2021)

H5-Index (8); H5-Median (13)

not applicable